So you are having a party and are looking for great cocktails to surprise friends and family. Well, you have come to the right place!
Here at Bartender, we are always looking to help you out by giving you cocktail recipes with a twist. Our Top 5 Party Drinks are no exception. Take a look, try them out and enjoy responsibly!
---
LIME SORBET MARGARITA
A margarita is a sure bet if you are having a party. Learn this recipe well, because at the end of the night everybody will want to get a copy off of you! It is very simple and takes almost no time, helping you make batches without missing your own party.
Ingredients you'll need for 8 servings:
1 Lime, cut into 8 wedges
¼ cup of Sugar
2 pints of Lime Sorbet
½ cup of Tequila, good quality
To prepare:
Easy, so easy. First, let's decorate the glasses. Rub a lime wedge on the rim of each glass and dip into sugar you previously put on a plate.
Now the drink itself. Add two scoops of lime sorbet per glass with tequila and serve with a spoon.
Fresh and sweet, perfect for a pool party!
---
CUCUMBER SAKETINI
If you are looking for a fresh cocktail with a sting, the Cucumber Saketini is the drink for you.
Served in a martini glass, it will give any party that extra sophisticated and chic touch. Think Sex and the City!
If the big city presentation isn't up your alley, serve it in a low glass.
Ingredients you'll need for 1 serving:
3 oz. of Gin
½ oz. of Sake
5 thin slices of Cucumber
To prepare:
Simplicity is key when making good cocktails, especially if you are throwing a party.
In your cocktail shaker, mix the gin, the sake and ice. Strain into your kind of glass, we recommend a martini glass, but feel free to experiment. Garnish with the slices of cucumber.
---
BOURBON AND BLOOD ORANGE BLAST
Here is a drink that will add color to your party while putting a smile on everybody's face. It combines the sweetness of the orange, with the freshness of the mint and the distinctive flavour of the Bourbon.
Ingredients you'll need for one cocktail:
1 ½ oz. Bourbon
½ cup Blood Orange Juice
8 Fresh Mint Leaves
1 Sprig of Mint for Garnish
To prepare:
In your favorite shaker, mix all of the ingredients (except the garnish, obviously). Shake.
Pour into a low glass with ice and add the sprig mint to garnish. What a treat!
---
PEAR MIMOSAS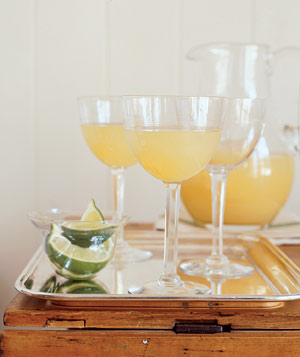 We have all had a Mimosa or two, or three. Yes, they are delicious, but we already have a drink with orange juice. It has been done, so let's try something else. Pears. Yes, Pear Mimosas.
Ingredients you'll need for 8 servings:
2 bottles of Champagne, chilled
4 cups of Pear Nectar
1 Lime cut into 8 Wedges
To prepare:
In a flute or wine glass, serve ¾ cup of Champagne and ½ cup of pear nectar.
Squeeze the lime wedge and throw it in. Done!
---
WHITE SANGRIA
Yes, White Sangria. This drink is usually prepared with red wine. If you like white wine better, or just to surprise your friends and be the talk of the party, try it out. It will be a success!
Ingredients you'll need for 6 servings:
6 cups of Chardonnay or Sauvignon Blanc
¼ cup Superfine Sugar
1 cup White Grape Juice
1 Ripe Nectarine, pitted and cut into wedges, thin
1 Tangerine, thinly sliced
1 cup Seedless White Grapes, cut in half
1 cup Club Soda
To prepare:
Sangrias are best presented in a large pitcher. Mix the wind and sugar stirring until it completely dissolves.
Combine with the nectarine, tangerine and white grapes. Refrigerate for 4 hours. If you are in a hurry, 1 hour is the minimum we recommend.
Stir, add the club soda and ice to serve.